Gingerbread Decorating Corner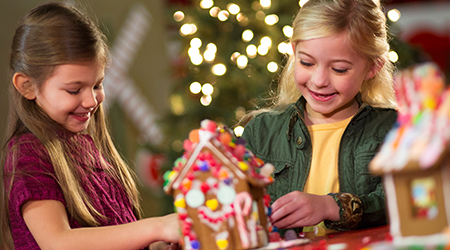 This fun, sticky and interactive decorating tradition just got even sweeter. Choose from different design options to create either delectable holiday-themed gingerbread cookies or complete gingerbread house. After you've decorated to your heart's content, make your way to meet Nutmeg, our Gingerbread Man, for a heartwarming photo opp .

Purchase Options:
• Gingerbread Kid Kit – 2 cookies
• Gingerbread Globe Kit – 8 cookies
• Gingerbread House Kit – Full House Set

Know Before You Go:
• Tickets must be purchased in advance online. No on-site box office.
• Price is per decorating kit, not per person. One kit accommodates multiple guests.
• Tickets are non-refundable. Additional fees for parking and taxes are not included in admission and charges will apply. Optional ticket insurance is available.